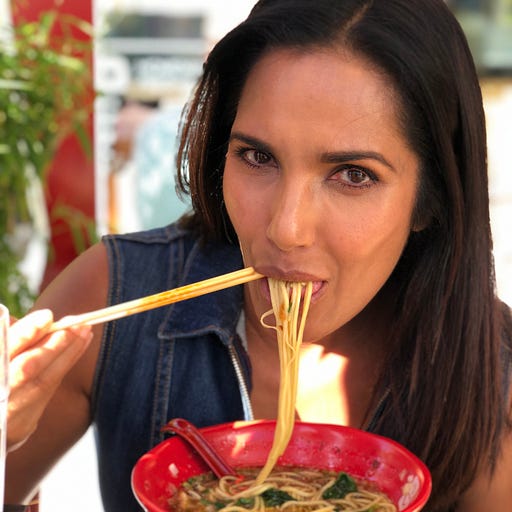 Jan 20 • 18M
I Want to Know Your Thoughts (Eating with Padma Lakshmi)
Listen to the full first episode of a new ASMR project
This episode is for paid subscribers
Hi Substackers!
Thank you so much to everyone for listening to the sneak peek of 'Eating with Padma Lakshmi' I shared last week. I'm so grateful that many of you shared such thoughtful feedback, which is so, so helpful and informative.
One main point I heard was about the tone. There was a distinct disconnect between the response from my followers on Instagram, Twitter, and Facebook and lots of you on Substack. Those on other platforms responded positively to the heightened tone, but many Substackers thought it felt forced or phony.
The tone was over the top and slightly absurdist on purpose, but I completely understand why lots of you weren't fans! You're all so used to my off-the-cuff and rather informal voice messages so it's makes perfect sense why this project came across that way to you all.
I really value your input and it'd mean so much if you'd take a listen to the full episode and think about it as a stand-alone project. I have some specific questions I want to ask everyone so I'm going to create a Substack Thread (sort of like a message board) for paid subscribers to share more thoughts and feedback! Stay tuned and thanks so much!
---
We're bracing for more winter weather in NYC this week, so I also wanted to share two Hot Toddy recipes with you all! Nothing like a warm, boozy beverage to curl up with on a frigid night, right? Those recipes are below!
Also, I'm craving comforting, brothy food like nobody's business so here are some pics of me with one of my favorite soupy dishes: ramen!
This episode is for paid subscribers